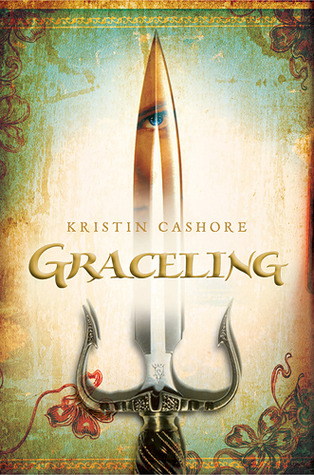 Katsa has been able to kill a man with her bare hands since she was eight – she's a Graceling, one of the rare people in her land born with an extreme skill. As niece of the king, she should be able to live a life of privilege, but Graced as she is with killing, she is forced to work as the king's thug.
When she first meets Prince Po, Graced with combat skills, Katsa has no hint of how her life is about to change.
She never expects to become Po's friend.
She never expects to learn a new truth about her own Grace – or about a terrible secret that lies hidden far away…
Jan Review
This is a book i picked up several times at bookstores when i gone in the cover just screams great fantasy read.  I was thrilled when i found a copy for 2.00 at my local goodwill.  It sat on my shelf for a long time and then i picked it up this weekend.  This book has a great premise to it and kept me reading at  good steady pace up until about the middle where it did seem to drag quite a bit like the girl of fire and thorns when she traveling in the valley.  I did like how it all got summed up in a pretty neat bow at the end so it was not a heart wrenching cliff hanger making me scream for book two.  I am intrigured to see what the other graces are that are to be discovered in book two.  I mostly rated it a 3 as i did not feel that i got a great sense of the world that the story takes place in, mostly felt like she just jumped around from place to place and then took a long trip with Po.   So a mediorce read for me but they can't all be 5 stars.