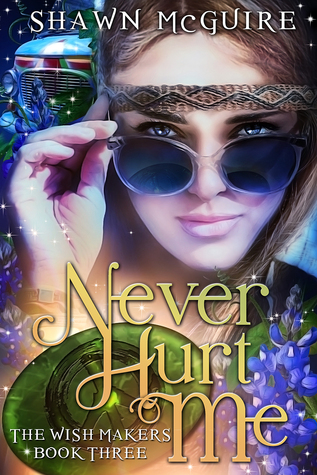 Everyone has a wish. Desiree's just got real.
For forty-five years, eternally-eighteen-year-old Desiree has been in a sort of limbo, granting wishes for others while never receiving her own. Now it's her turn, and she's finally going to get what she asked for so long ago: a second chance at life.
Once back in the real world, Desiree meets Dara, a girl who must beg for money in order to buy food. With nothing to give her and powerless to grant a wish for her, Desiree begins to wonder if she would have been better off staying where she was.
There's one other thing Desiree hadn't bargained for. Not being a genie means not being with Kaf. And that's a huge problem because falling in love with her chauvinistic, exasperating, gorgeous boss was the last thing Desiree expected.\
Book Excerpt
Excerpt
I'd never gotten close to any of my charges. Not that I hadn't cared about them, I had. It's just that I was put on their life path to do a job, not to become attached to them. We were never meant to have long-lasting relationships. Then came Mandy and Crissy.
In a little more than three months, those girls had become a permanent part of my life path. I'd do anything for them. That's why instinct took over when Crissy was being attacked. I hadn't thought, I'd just reacted. The call afterward to appear before Kaf, my boss, didn't surprise me. The fact that he'd waited so long did. Crissy's wish had ended days ago. Maybe the delay was a timeout, of sorts, so I could think about what I'd done.
I found King Kaf at the very back of his cave seated on a throne. An actual one this time, made of gold and emerald instead of the cloud formation he usually perched upon. Very formal. That couldn't be good. Orange and green smoke swirled behind him like an acid trip through a kaleidoscope. He had his big book, his compendium of wishes, out and opened to a specific page. One that had been bookmarked by a strip of tie-dyed fabric.
Buy Links
Amazon – No link yet as it doesn't go live there until 12/24
CreateSpace – https://www.createspace.com/5163216
Smashwords – http://www.smashwords.com/books/view/498639
Kobo – http://store.kobobooks.com/en-US/ebook/never-hurt-me
iTunes – https://itunes.apple.com/us/book/never-hurt-me/id948773551?mt=11
Barnes & Noble – http://www.barnesandnoble.com/w/never-hurt-me-shawn-mcguire/1120872327?ean=2940046443721
GooglePlay – https://play.google.com/store/books/details/Shawn_McGuire_Never_Hurt_Me?id=O1-0BQAAQBAJ
Jan Review
This book is awesome and is made of all the great stuff this makes this series grow on you with each book.  I really loved that with this book we get to dig really into our favorite Wish Mistress background and it brings up a few tears as you read through and then you get to the end and i so used to books only being 3 books that i was thinking we where going to get it all in this book no their more and not just one more 2 more as of now.  Wow Shawn you got me hooked i can hardly wait to see where this goes.  This is a must read series for everyone.
Shawn McGuire is the author of young adult novels that blend contemporary settings and issues with a touch of fantasy and magic. She started writing after seeing the first Star Wars movie (that's episode IV) as a kid. She couldn't wait for the next movie to come out so wrote her own episodes. Sadly, those notebooks are long lost, but her desire to write is as strong now as it was then.
Her books deal with harder topics (dating violence, death of a sibling, divorce, substance abuse, runaways, etc.) because she believes it is important to talk about these things. Those kinds of topics can be hard to handle and a bit overwhelming, so she infuses a bit of humor in her work as well because she also believes that a sense of humor can help you get through just about anything.
Shawn lives in Colorado with her family where she loves to read, cook and bake, craft, decorate her house, and spend time hiking and camping in the spectacular Rocky Mountains.

Author Links
Website – www.Shawn-McGuire.com
Facebook www.Facebook.com/ShawnMcGuireAuthor
Newsletter signup – http://eepurl.com/V21k1
Pinterest – http://www.pinterest.com/shawnmcguire1/
Twitter – https://twitter.com/Shawn_McGuire
Goodreads – https://www.goodreads.com/author/show/3231214.Shawn_McGuire
Amazon Author – http://www.amazon.com/Shawn-McGuire/e/B00L0FJDFW/ref=sr_tc_2_0?qid=1420552843&sr=1-2-ent
Author's Other Works
The Wish Makers Series