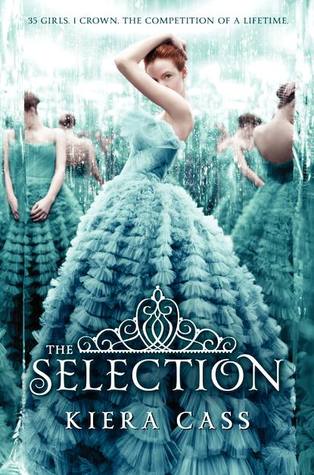 Title: The Selection
Author: Kiera Cass
Series: The Selection
Publisher: HarperTeen
Released: April 24th 2012
Book Blurb:
For thirty-five girls, the Selection is the chance of a lifetime. The opportunity to escape the life laid out for them since birth. To be swept up in a world of glittering gowns and priceless jewels. To live in a palace and compete for the heart of gorgeous Prince Maxon.
But for America Singer, being Selected is a nightmare. It means turning her back on her secret love with Aspen, who is a caste below her. Leaving her home to enter a fierce competition for a crown she doesn't want. Living in a palace that is constantly threatened by violent rebel attacks.
Then America meets Prince Maxon. Gradually, she starts to question all the plans she's made for herself–and realizes that the life she's always dreamed of may not compare to a future she never imagined
Jan Review:
3.5 starts
I listened to this as an audio book from my local library.  This story starts out as reminding me of the tv the show The Bachelor which is a show i really can not stand.  This book does a far better job then that show does of focusing on the good parts of people and the whole reason why America has put her plans on the line and stayed in The Selection.  This is a book for those that want their own prince and want to be in a competition to win him.  I did feel the dystopian part could of been a bit more developed.