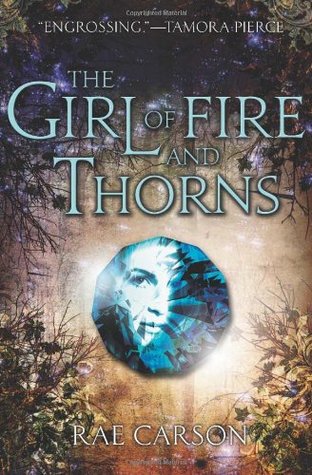 Title: The Girl of Fire and Thorns
Author: Rae Carson
Series: Fire and Thorns
Publisher: Greenwillow
Released: September 20th 2011
Book Blurb:
Once a century, one person is chosen for greatness.
Elisa is the chosen one.
But she is also the younger of two princesses, the one who has never done anything remarkable. She can't see how she ever will.
Now, on her sixteenth birthday, she has become the secret wife of a handsome and worldly king—a king whose country is in turmoil. A king who needs the chosen one, not a failure of a princess.
And he's not the only one who seeks her. Savage enemies seething with dark magic are hunting her. A daring, determined revolutionary thinks she could be his people's savior. And he looks at her in a way that no man has ever looked at her before. Soon it is not just her life, but her very heart that is at stake.
Elisa could be everything to those who need her most. If the prophecy is fulfilled. If she finds the power deep within herself. If she doesn't die young.
Most of the chosen do
Jan Review:
I was really excited to read this book my friends raved and said it was great read.  I am so sad to say that this book was a disappointment for me and that in no means it was a terrible book.  It had a great potential, i was intrigued by the concept of the chosen with the Godstone in the navel, i wanted their to be exciting edge of their seat action, their just wasn't.  I was bored half way through as Elisa was walking to yet another destination.  I was left wanting when nothing really came of the godstone concept.   Their a lot of book that get talked up in their hype and this one just did not live up to the hype for me.