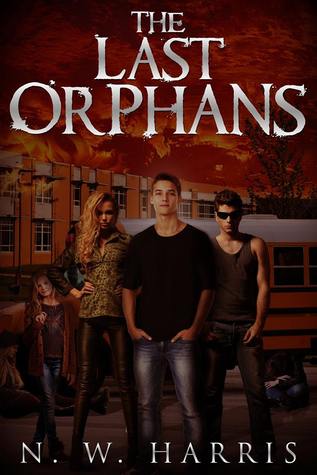 Title: The Last Orphans
Author: N. W. Harris
Series: The Last Orphans
Publisher: Clean Teen Publishing
Releasing:  October 17, 2014
Book Blurb:
One horrifying day will change the life of sixteen-year-old Shane Tucker and every other kid in the world.
In a span of mere hours, the entire adult population is decimated, leaving their children behind to fend for themselves and deal with the horrific aftermath of the freak occurrence. As one of the newly made elders in his small town, Shane finds himself taking on the role of caretaker for a large group of juvenile survivors. One who just happens to be Kelly Douglas—an out-of-his-league classmate—who, on any other day, would have never given Shane a second glance.
Together, they begin their quest to find out why all of the adults were slaughtered. What they find is even more horrifying than anything they could have expected—the annihilation of the adults was only the beginning. Shane and his friends are not the unlucky survivors left to inherit this new, messed-up planet. No, they are its next victims. There is an unknown power out there, and it won't stop until every person in the world is dead.
A spine-tingling adventure that will have you gasping for breath all the way until the last page, The Last Orphans is the first book in an all-new apocalyptic series.
Jan Review:
ARC provided by the author for honest review.
I am big Stephen King fan so i was very excited to read this, most of what i read tends to be more on the fantasy side not horror but i do like to shake up my reading every once in a while so it doesn't get stale.  That what The Last Orphans did for me it shook up my reading and had me gasping, cringing, and enthralled from page one tell the very end.   That cliffhanger certainly left me going oh no how long tell the next one.  Great break out novel.
Goodreads giveaway https://www.goodreads.com/giveaway/show/110274-the-last-orphans