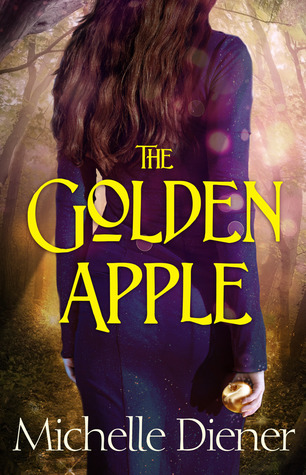 Title: The Golden Apple
Author: Michelle Diener
Series: The Dark Forest
Publisher:  Self-Published
Released: March 24th 2014
Book Blurb:
Kayla's world has been turned upside-down . . .
Her father has made her the prize in a deadly, impossible tournament, and Kayla has retaliated in the only way she knows how; by choosing her champion beforehand. But taking control of the outcome changes the game completely, and when the real reason behind the strange test becomes apparent, Kayla realizes not just her life, but her entire kingdom is at stake.
Rane's honor is torn in two…
In order to save his brother, Rane will do whatever he has to–including deceive and betray a princess. He knew nothing about this tournament would be easy, but when it turns into a deeper, far more sinister game, Rane is forced to see it through to the end, or leave his brother at the mercy of their enemy.
Now their fates are entwined, and they must venture into the deep, dark forest together . . .
Kayla and Rane are bound to one another by an enchantment and Kayla's actions. But the sorcerer forcing them to do his will may have miscalculated, because no-one comes out of the Great Forest unchanged. No-one.
The Golden Apple is loosely based on the fairy tale The Princess on the Glass Hill.
Jan Review:
4 stars
This was a retelling of a fairy tale that i never heard of but it still intrigued me.  I like that magic is different in this book then it is in any other book as once you use it their a bit left over called wild magic and it does not answer or obey anyone.   I like all the hidden elements in the story that you keep guessing what going to happen next.  I am excited to read more in the upcoming sequel.