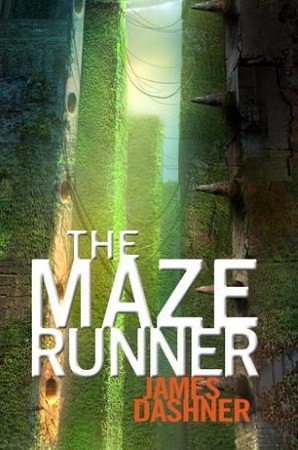 Title: The Maze Runner
Author: James Dashner
Series: The Maze Runner
Publisher:  Delacorte Press
Released:  October 6th 2009
Book Blurb:
If you ain't scared, you ain't human.
When Thomas wakes up in the lift, the only thing he can remember is his name. He's surrounded by strangers—boys whose memories are also gone.
Nice to meet ya, shank. Welcome to the Glade.
Outside the towering stone walls that surround the Glade is a limitless, ever-changing maze. It's the only way out—and no one's ever made it through alive.
Everything is going to change.
Then a girl arrives. The first girl ever. And the message she delivers is terrifying.
Remember. Survive. Run
Jan Review:
5 stars
I picked up this book cause I saw previews for the movie and I am one of those people who most of the time has to read the book before i see the movie.  I am so glad i did this book had me from page one all the way to the end.  I really like how they never tell poor Thomas anything.  It really puts you in the book right next to him wanting to scream just tell me something anything you Shuck faces.   A great page turner that gets you all excited and pumped up as the ending comes and then your left going next book please.  So excited to see the movie.  Book two on hold at library a must read series.