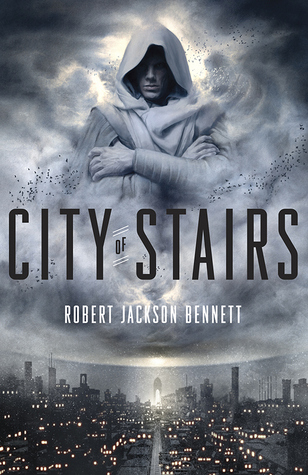 Title: City of Stairs
Author: Robert Jackson Bennett
Publisher: Broadway Books
Released: September 9th 2014
Book Summary: A densely atmospheric and intrigue-filled fantasy novel of living spies, dead gods, buried histories, and a mysterious, ever-changing city-from one of America's most acclaimed young SF writers.
Years ago, the city of Bulikov wielded the powers of the Gods to conquer the world. But after its divine protectors were mysteriously killed, the conqueror has become the conquered; the city's proud history has been erased and censored, progress has left it behind, and it is just another colonial outpost of the world's new geopolitical power. Into this musty, backward city steps Shara Divani. Officially, the quiet mousy woman is just another lowly diplomat sent by Bulikov's oppressors. Unofficially, Shara is one of her country's most accomplished spymasters-dispatched to investigate the brutal murder of a seemingly harmless historian. As Shara pursues the mystery through the ever-shifting physical and political geography of the city, she begins to suspect that the beings who once protected Bulikov may not be as dead as they seem-and that her own abilities might be touched by the divine as well
Jan Review:
5 stars
Arc provided via Netgalley.
Wow this book is very gripping, it starts off a bit weird and I was like i not sure i am going to like this.  Then your off into one epic murder mystery, sci-fi fast action packed story that keeps you gripped right up to the end. Each chapter lures you in and spits you back out.  It took me a few days to read it not because it was boring but because i had to take time to digest the few chapters i did devour.  A great story and i am excited to see what else this author has to offer.