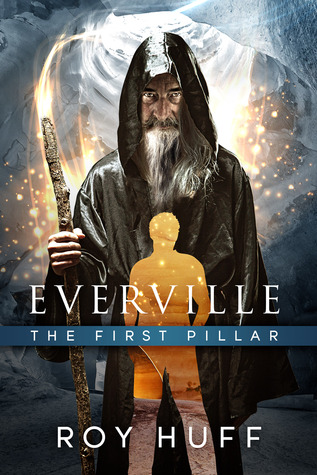 Title: Everville The First Pillar
Author: Roy Huff
Series: Everville
Publisher: Self Published
Released:  April 1st 2013
Book Summary:
Owen Sage is the emblematic college freshman at Easton Falls University. With all the worries about his first year in college, he was not prepared for what would happen next. His way of life was flipped upside down when he mysteriously crossed into another dimension, into the beautiful land of Everville. His excitement was abruptly halted when he discovered that there was a darkness forged against both the natural world, which he knew well, and the new land which he discovered, Everville. He must devise a plan to save both worlds while joining forces with the race of Fron and The Keepers, whom both harbor hidden secrets he must learn in order to gain power over the evil that dwells in The Other In Between. With a race against time to save both worlds, his short time at Easton Falls did not quite prepare him for the evil, dark forces he must fight in order to conquer The Other In Between.
Jan Review:
Listen Via Audible.com
4 stars
This was a thoroughly enjoyable book to listen to it kept my attention and found myself quickly invested in the story and what was going to happen. There is so much going for this book – the reader is dragged straight into the action with no fuss or tedious back story – the characters are so likeable we immediately root for them – the story is full of immense action scenes and unusual surprises, even back on Earth we gasp at Roy Huff's brilliant twists and continuation of the plot. This is a great start to what i am sure is to be a fantastic series.