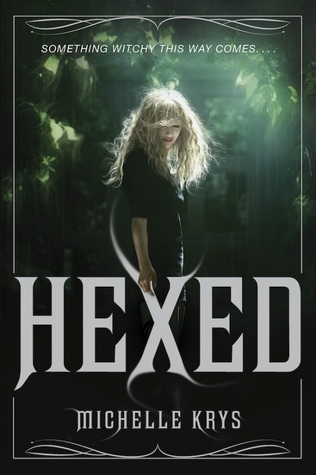 Title: Hexed
Author: Michelle Kyrs
Series:  The Witch Hunter #1
Publisher:  Delacorte Press
Released:  June 10th 2014
Book Summary:
If high school is all about social status, Indigo Blackwood has it made. Sure, her quirky mom owns an occult shop, and a nerd just won't stop trying to be her friend, but Indie is a popular cheerleader with a football-star boyfriend and a social circle powerful enough to ruin everyone at school. Who wouldn't want to be her?
Then a guy dies right before her eyes. And the dusty old family Bible her mom is freakishly possessive of is stolen. But it's when a frustratingly sexy stranger named Bishop enters Indie's world that she learns her destiny involves a lot more than pom-poms and parties. If she doesn't get the Bible back, every witch on the planet will die. And that's seriously bad news for Indie, because according to Bishop, she's a witch too.
Suddenly forced into a centuries-old war between witches and sorcerers, Indie's about to uncover the many dark truths about her life—and a future unlike any she ever imagined on top of the cheer pyramid.
Jan Review:
4 stars
Thanks to Yakima Valley Regional Library for having a copy to borrow.
I really liked this book it was unique and that it pits witches against sorcerers which they usually tend to kind of get lumped together.  I also liked that i was shocked when death was dealt.  Usually you can see it coming and expect that it going to happen.  I also liked that Indigo is very unique in the way her characters handles everyday teenage situations in the book.
I did find a few things that where unbelievable like when she paid the cab driver 900.00 and she just happen to have it on her.  I also think if her aunt is a witch that would of come in to play more then it did.
Otherwise a good book and i am intrigued enough that i want to read the other books.